When deciding what details are important for your event, whether it's a dream wedding, or a company party, your budget is often the biggest factor. Staying in budget is a must when planning and doesn't have to mean disappointment. While staying in budget may mean saying no to some options, it can also mean budgeting some extra money where it counts. Here are some ways to accentuate within your budget.
Textures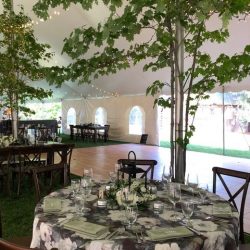 When you enter a room what catches your eye first? Texture adds dimension and depth to the physical or visual feel of your event. Having textures within your design can take a basic table, window, doorway, or floor to new levels, while having a very small impact on cost. Here are just a few texture changes that can give a huge first impression.
Instead of linen drapes try some greenery.
Swap out the polyester chair cover for some velvet.
Chose a striped or patterned cloth instead of a solid.
Elevate your invitations with recycled paper, embossed text, or foil lined envelopes.
Linens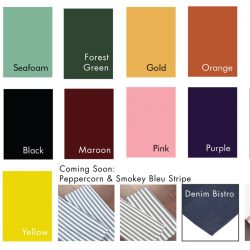 When choosing the style or vibe for your event, linens can have a major impact as soon as you walk in the room or sit down at a table. From function to aesthetics, the color, length, and material you choose can change greatly, all for little to no change in your budget. No matter what direction you go, just make sure you are consistent throughout the room.
Try playing with the length of the cloth, extend it to the floor or stop it above the lap.
Upgrade your table and showcase it without linens.
Ask your vendor about skirting options.
Table Style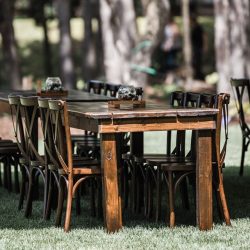 Are you trying to fit as many guests as you can into your dream venue or are you going for a look you saw on Pinterest? Tables set the layout and can elevate your event. Table style can also impact a seating chart or the layout of your event.
Play with different shapes – rectangle or round or mix the two.
Try upgrading to either plastic or wood.
Maybe go for the ever-popular farm style tables.
Rearrange and move the tables during setup, or plan ahead of time and build a seating chart.
Table Setting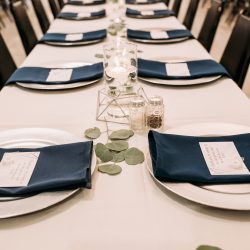 How full do you want your table? What kind of meal service are you expecting? When choosing your table settings there are many options.
Swap disposable plates for real ones.
Elevate the center with a fabric runner or greenery.
Add decorative elements like plate charger or napkin holders.
Use linen napkins and explore the folding options.
Print some personalized thank you cards or set out some party favors at each seat.
Chairs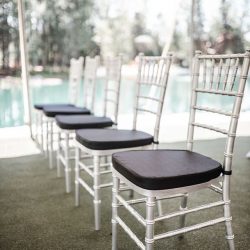 Comfort, style, and budget play a very big role in your decisions on chairs. With so many options available, chairs are one of the easiest but subtle changes for your desired feel and budget.
Cover up the simple plastic chairs with decorative chair covers.
Add some sashes to play with design.
Upgrade the plastic banquet chairs to the elegant Chiavari style.
Try a cross back chair to make a statement across the room.
When you're ready to start designing make sure to do some research as different vendors in your area carry different items that may add to your overall style. The vendor may also offer services that can eliminate a lot of stress with these decisions, while helping you maintain your budget.
Accentu's wide range of inventory combined with our experienced design team will transform your event. Contact us or check out our website for information on what services and rentals we have to offer, and visit our sister site Rib River by Accentu to view our newly renovated and fully open venue.