You have found the love of your life, picked the perfect ring, and now you need to plan the big day. One of the first steps in planning a wedding is finding the perfect venue. A venue is so important in establishing the overall look and feel of your wedding. From rustic barn to hotel to backyard or banquet hall, there is a lot to consider when picking a venue and its easy to get overwhelmed. Here are a few location styles to consider.
Barn
Barn weddings are many brides' dream venue for their special day. If you're planning your wedding for the warmer seasons, a rustic barn can be a great option of being somewhat outdoors with just enough indoor that you don't have to worry about the rain. One of the best things about decorating a barn is that its already half finished! That natural wood décor pairs wonderfully with a country vibe and can be a great way to make this formal event not too formal for your guests. Many brides opt for the small, low-key feel of a barn wedding, especially in rural Wisconsin. Be prepared to book your wedding well in advance. Barn weddings are very popular and many barn venues are booked out almost 2 years.
Hotel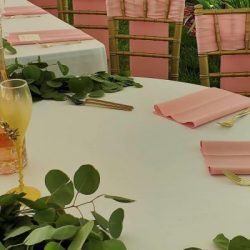 If you're the inner-city bride with lots of friends from out of town, maybe the right venue for you is a hotel. Nowadays, hotels are often the best option for a classy, modern vibe with very little décor needed. Let's be honest, a tricky part of attending an out-of-town wedding is transportation, how will your guests get from the ceremony to the reception? What about your wedding party? When you plan your wedding at a hotel, you may be able to block discounted rooms for guests and no one needs to travel from location to location, which eliminates the need and cost of a shuttle. Plus, you can rest easy that no one needs to drive anywhere.
Banquet Hall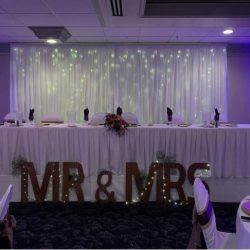 Generations of couples have celebrated their weddings at banquet halls, but that doesn't mean they are a thing of the past. Many halls have current amenities and updated interiors, yet are best described as blank slates. With a simple interior, you are able to customize the look and feel of your special event with your own décor. While many banquet halls have tables and chairs available for you to use, you can always find a vendor to bring in some farm tables or cross back chairs, as well as many other rentable design options. Using a banquet hall eliminates the stress of finding a caterer, bartenders, or a space large enough for your family. They are often a one-stop shop venue with tons of indoor and outdoor options to fit your needs and realize your dreams.
Backyard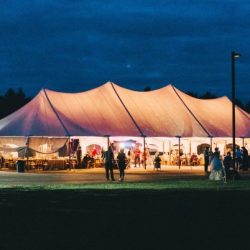 Sometimes when you think about your special day, you don't imagine a lavish building or hotel, but celebrating your wedding in the comfort of your own property. Backyard weddings have been around forever and are a great alternative to some of the more expensive venue options. But let's be clear, having a backyard wedding doesn't mean no décor or shelter, and it definitely doesn't mean you have to have your family cook all the food. An event rental company can take care of all the items you'll need and they'll deliver to your site. Rent some tables and chairs, maybe a sail cloth tent and some colorful linens, have a company bring in some portable bathrooms, and find a local catering company that can supply all the food. Backyard weddings can be just as beautiful and stress free as any other venue.
When deciding what venue is right for you, we recommend weighing the pros and cons for each of your options, and then decide what is more important for you. Factor in your budget and check out some local vendors for pricing and availability. Planning your wedding should be a great experience, so if you start to feel overwhelmed, step back and try to remember that the most important thing is to enjoy the celebration. Here at Accentu, we offer many services to help you plan your wedding, from event planners and day of coordinators to any items you need to rent. We can help you plan your day or get you in touch with some local venues or vendors. Contact us to see more ways Accentu can help you plan your wedding or special event.